Guess what I just finished sewing????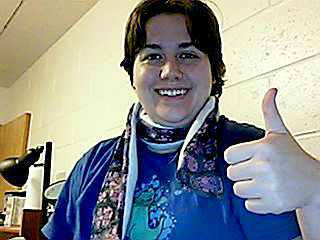 SCARF!!!!!!
Better pictures to follow. Tomorrow night probably (my camera is at home). FOR NOW ENJOY THIS CRAPPY WEBCAM PIC. Also, my Reptar On ICE!!! SHIRT!!!!!!
I AM SO COOL
Next thing 2 sew:

ocelotofdoom
's gift. I'll be getting the last bits of fabric I need for it tomorrow or Friday o u o
I'm also already planning another scarf (I love scarves). This one wouldn't be hemmed though. I'm thinking two pieces of fabric (fleece probably) sewn together down the long ends, then flipped inside-out & the short ends cut and knotted. You know, like a knotted blanket?
This might be a good use for that
Gambit
deck-of-cards themed fleece remnant I bought...
(Also
the survey
is still going! If you haven't filled it out yet plz do! I need to know which animal u all prefer 6 u 9 once it looks like I'm going to get no more responses, I'll make frequency charts and things to show y'all the results)
(Also also: I hate nightmares that turn into sleep paralysis. Do not get me sleep paralysis for a gift, that would be a crap gift)